Mishler

Builders

A proud testament to a reputation for outstanding work combined with exceptional customer service, many of Mishler Builders clients are either satisfied repeat customers or referrals –

Mishler Builders can assist in any phase of the creation of your dream project including finding the perfect site, creating the design from scratch or working with a client's plans. Each step will be carefully planned to not only stay on time and on budget, but also allow for the flexibility of new innovations and total client involvement during the process – ensuring the final product is truly the dream imagined.

If you are looking to 'step out of the box' and create a home or business of impeccable design and quality, consider a builder with the values of heartland America - 30 year track record of unsurpassed quality, a constant eye on improvement, and a proven reputation of excellence with clients. Consider Mishler Builders – whose stamp of architectural excellence is found throughout the finest communities of Rockwall, Texas and cities through the east Texas area.
Home Designs

Gallery full gallery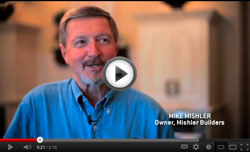 Contact

Us
Contact Mike Mishler
MishlerBuilders@sbcglobal.net
214-502-3895
Go to Contact Form